Yesterday I finally got around to baking with the rhubarb harvested over the weekend, plus some rhubarb serendipitously stumbled upon while out for a walk; we strolled past a tiny house on Phinney Hill, and sitting there in a pot were half a dozen ruby-red rhubarb stalks with a sign that said "Free Rhubarb."
This being Seattle, one might think that a sign reading "Free Rhubarb" referred to a wrongly incarcerated pit bull or the like, but no. It really did mean, "Here. I have a lot of rhubarb. Take some."
In our household, there is never such a thing as too much rhubarb, which is why we grow it both in the backyard and in our P-Patch. As a plant, it's pretty when you look at it up close, with its crimson stalks and tightly curled new stems. The leaves, those famously toxic leaves, are huge green platters, often growing to nearly two feet across. Best of all, it's low maintenance.
Unfolding leaves among stalks
Perhaps because its leaves are poisonous, a rhubarb plant also seems like something of a curmudgeon. Chard, which also has colorful stalks and green spinach-like leaves, just seems cheerful. But rhubarb's a bit sullen. Maybe this impression stems from the time I dug up a big rhubarb plant to move it to a better spot in the garden.
The stalks grow from a thick underground stem called a rhizome. The big plant I dug up had an equally hefty rhizome, which was as orange as a sweet potato, with gnarled roots grasping in all directions.
I really felt as if I were digging up a very angry mandrake root and so heaved it into its new spot as fast as I could; it looked like something from a fairy tale that shouldn't be dug up, ever. Like this thing:
You'd think I'd have a grudge against rhubarb, since one of the pet rabbits I had as a kid died from eating it; he'd gone for a romp in the yard and did a Mr. MacGregor's Garden, slipping in among the vegetables and sampling the rhubarb leaves. (Then again, maybe he'd just realized that he was called Tiffany, a name I gave him when we thought he was a girl. Until he fathered a litter of baby rabbits, that is.)
But rhubarb is so scrumptiously tart and smacks up so deliciously against sweet ingredients in a recipe that all is forgiven. (Sorry, Tiff.) A 1949 cookbook I have declares, "Rhubarb, though it cannot rightly be called a fruit, is one of the most refreshing of plants."
(Maybe it was fate that led me to live in Washington State, which is the nation's leading rhubarb producer with about 60 percent of the crop. Nearby Sumner, Washington, proclaims itself as the Rhubarb Pie Capital of the World. Beat that!)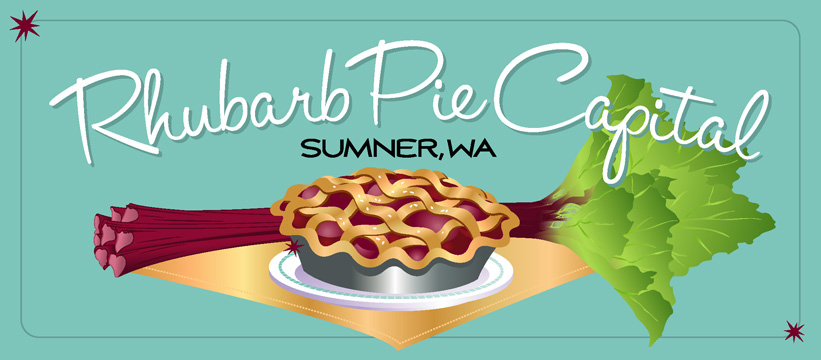 Favorite recipes include strawberry-rhubarb pie with a crumb topping--not for nothing is rhubarb known as "pie plant." Rhubarb crisp and rhubarb applesauce also can't be beat. Another favorite is rhubarb coffee cake. This recipe is adapted from one in the cookbook
The Joy of Rhubarb
by Theresa Millang.
(Rhubarb, incidentally, is also the name of the first pony my horse-mad daughter ever rode. Though she didn't hop on him the first time he stood patiently waiting for her at Remlinger Farms. Oh, no. I urged her on by saying "Rhubarb really wants to carry you!"--ignoring Rhubarb's equine version of "yeah, right"--but my 3-year-old would have none of it. She glowered at me and said in a low voice, "YOU ride the pony.")
Rhubarb Coffee Cake
1/2 cup butter, softened
1 1/2 cups sugar
Doesn't look like much but tastes amazing.
2 eggs
1 cup sour cream or 1 cup plain or vanilla yogurt
1 tsp vanilla extract
2 cups flour
1 tsp baking soda
pinch of salt
2 cups chopped rhubarb
Topping:
1/2 cup packed brown sugar
1 Tb flour
1 tsp cinnamon
1 Tb butter, softened
1. Preheat oven to 350. Grease a 13 x 9 baking pan. (Ha, I just noticed the book says to grease a 13 x 9 "square" baking pan. I challenge you to find such a thing.)
2. Beat butter and sugar til smooth.
3. Beat in eggs, sour cream or yogurt, and vanilla.
4. In separate bowl, mix dry ingredients, then fold them into the wet ingredients.
5. Add rhubarb and stir, then plop it all into the baking dish.
6. Cut the topping ingredients together either in a food processor or with a pastry blender until they resemble coarse crumbs, then sprinkle over the batter.
7. Bake for 30 to 40 minutes or until a fork comes out clean.